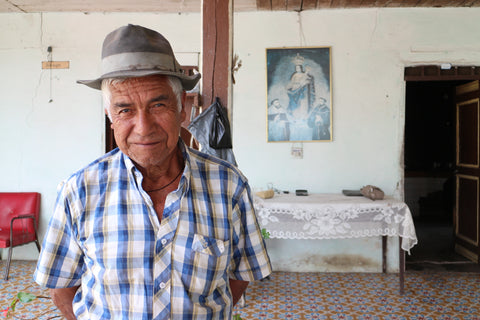 | | |
| --- | --- |
| Origin | Colombia |
| Region | Muncipality: San Pedro de Cartago, State: Nariño |
| Farm / Coop | El Trapiche, FUDAM |
| Farm Size | 10,000 trees/ 3 hectares |
| Altitude | 5,900 feet |
| Varietals | Caturra |
| Processing | Fully washed, fermented for 24 hours, dried in raised parabolic beds |
| Certifications | n/a |
| Cup Notes | Score: 86. AROMA/FLAVOR: Honey, panela (brown sugar), dark chocolate, juicy, peppery.  ACIDITY: vibrant, citric. OTHER: Very clean and transparent (easy to identify attributes), strong fruit flavor throughout. Not your typical mild Colombian. Drink it hot! |
Marco Aurelio Lasso is one of six brothers, who collectively inherited one of the most traditional farms in northern Nariño. The farm is called El Trapiche (The Sugar Cane Press). The farm is more than 70 years old and is famous in the whole region for being one of the first to grow coffee and also the first to have a mechanical de-pulper (removes the flesh from the coffee cherry).  Marco manages his farm with the help of his grown children, specially his son, Evelio.
This is our first purchase from Marco, a smallholder farmer who recently began exporting his best bags of coffee as micro-lots in partnership with Pergamino Coffee Exporters, the exporting branch of our friends and suppliers at Santa Barbara coffee estate in Antioquia. Nelson cupped (tasted) a sample early this Fall and liked it enough to buy the whole micro-lot (10 bags). Try some yourself while supplies last!
We like to roast it medium and drink it as single-origin espresso on in a French Press. But drink it before it cools.

---
More from this collection