86+ Find: Ruben Molina, 2016 Best of Antioquia (Colombia)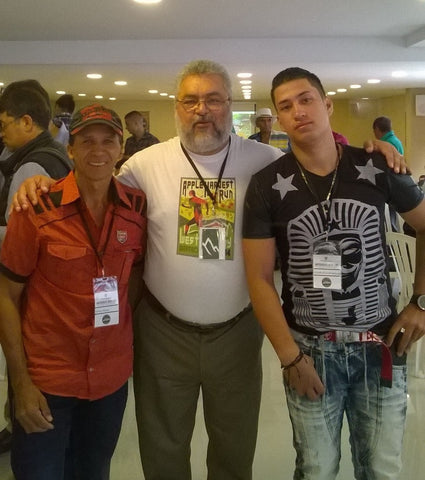 | | |
| --- | --- |
| Origin | Colombia |
| Region | Antioquia |
| Farm / Coop | Ruben Molina, Las Orquideas farm |
| Altitude | 2,006 meters |
| Varietals | Caturra |
| Processing | Wet washed |
| Certifications | FLO |
| Cup Notes | 88 points. AROMA/FLAVOR: Rose petal, banana, mango, brown sugar. ACIDITY: Great balance of sweet citric and malic. OTHER. Juicy, cramy aftertaste, great body. Excellent for dark roasts. |
This past February 2016, Nelson was honored to attend and serve as the Head Judge for the fourth annual state-organized Best of Antioquia coffee competition in beautiful Medellin, Colombia. He and Eleni had just returned from origin trips to Bolivia and Brazil and it was a busy, but wonderful time. Three years ago, when Sergio Fajardo was elected as governor of the Colombian state of Antioquia, he made improving the state's coffee industry a primary policy of his administration. During his administration, three Best of Antioquia competitions were held. They are essentially a Cup of Excellence-style program. The fourth one was the first one that was conducted outside Mr. Fajardo's term in office and support. It was an outstanding success, but we are not sure the current political winds will continue blowing in that direction. And that would be a crying shame! So enjoy these special lots while you can.
Until recently, Antioquia's coffee quality reputation has been overshadowed by other top regions in the country, like Cauca and Nariño. Antioquia has been working hard to change that on many fronts, and they have achieved some hard-won success. At the competition, coffee buyers from around the globe were invited to cup the top 60 Antioquian coffees, and bid for them at an open auction. The winning bidders then have the opportunity to meet the coffee producers and their farms, which is exactly what Nelson did.
According to "Gobernacion" records, Antioquia has over 130,000 hectares planted in coffee, producing more than 1.8 million 70kg bags per year, which accounts for nearly 15% of Colombia's total coffee production. About 90,000 families, from 94 municipalities, have coffee as their main source of income. Most of them are small producers, with 3-5 hectares per family, normally combined with other crops such as citrus, beans, corn, banana and vegetables used mostly for family consumption. Most of these families have been growing coffee for 3 or 4 generations. During the 2016 competition, 703 lots were submitted, whittled down through cupping by National cuppers to 296 lots. The the group was further reduced to 60 lots, each with a score of 85 points or higher. These 60 lots were then ranked by 24 International Jurors, lead by Nelson, representing countries from North America, Asia, Europe and Colombia. Finally the lots were sold at the auction. Nelson bought four wonderful micro-lots, each coming from a wonderful family. Read their stories below and enjoy!
Ruben de Jesus Molina Alvarez has been growing coffee for the past 25 years. He is helped by his son Didier (also pictured here, with Nelson, center) and daughter Maria Cardina. Sadly, his wife died 2.5 years ago, and their 4 year old son is being raised with grandmother, Rosaura Tina's help. Located in Caicedo, the farm is reached by crossing a beautiful brook (using a tree trunk as a bridge!) right after the provincial paved highway. It is about 3.5 hours by car from Medellin. Besides coffee, they have citrus trees and a few dairy cows. The farm needs some improvements, and we are glad that our purchase will give them the necessary funds to make that happen.
---
More from this collection