Brewers & Grinders
BARATZA ENCORE Black Burr Coffee Grinder. Free Coffee. NEW ARRIVAL. READY TO SHIP!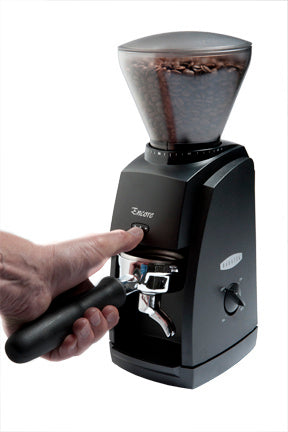 Description
Features:
40 position grind selector gives you the option to grind from very fine, Turkish/Greek and Espresso, to extremely coarse for French Press or cold water Filtration systems.
Removable burr grinding wheel for easy cleaning.
Clear visible markings.
Simple to clean high gloss finish.
Large 1/2 lb. Capacity hopper.
Powerful 70 watt, 0.8 Amps motor.
Made in Taiwan, the Baratza Encore is the ultimate entry-level grinder for your coffee enjoyment. Good grinding is one of the main factors in determining the taste of your freshly brewed coffee. We will include for free a 2.5 oz. sample of our 100% Organic Bolivian coffee.

If you are serious about your coffee and either roast at home, or buy whole beans, then you need a strong burr coffee grinder, like this one. Using a coffee grinder at home produces significantly better-tasting coffee than buying ground coffee at the store (or online!)
So what's the difference between a burr and blade grinder? A burr grinder has teeth that cut the coffee beans in one pass, without overheating, nor destroying them. A burr grinder has different settings and allows you to pick the type of grind (very fine to coarse) desired. This is what commercial coffee grinders do. A blade grinder has a rotating knife that cuts the bean repeatedly (until pulverized, if kept on long enough or if you have a weak motor).

A burr coffee grinder is good for all types of coffee brewing methods, including Espresso and Turkish/Greek. In our humble opinion, this is the best-value burr coffee grinder in the market today. You can't find a better conical burr grinder for under $140.
It provides consistent grinds for brew methods from espresso to French Press and everything in between. Straightforward controls make your daily routine simple and easy. Load up your hopper with your favorite beans, turn the hopper to the grind setting you want, switch the Baratza Encore on and let the precision conical burrs deliver consistent, quality ground coffee every time.  Moreover, you will feel good knowing that you bought a grinder that will last you for years!
Beyond a great coffee-making experience, the Encore lets you explore new coffee flavors.  With 40 individual grind settings, you can find the perfect grind size for all brewing methods. The hopper can hold 8 ounces of whole beans, and the clear grounds bin has a fill line to indicate how much to grind. It was designed to fit nicely under most kitchen cabinets without sacrificing power or quality and to bring value to your daily grind. It should be cleaned on a regular basis, for optimal performance.
Warranty and Repair Info: The grinder is covered by a one-year manufacturer's warranty. To obtain service under the warranty, write Baratza at support@baratza.com.  Baratza prefers to work directly with the customer to solve the problem.  Email them with the problem details. Often, they can solve the problem over email or phone, which means you will have a solution immediately. If Baratza cannot easily solve the problem, they will deliver an identical or comparable replacement to the customer's door, free of charge, along with a prepaid shipping label to return the "failed" grinder.  Now, that is a warranty!
PLEASE NOTE that we strongly recommend purchasing shipping insurance on this item. It is a valuable item, and waiving insurance means that you will bear all of the risk of loss or damage after we ship this item to you.
---
More from this collection