Flagship Coffees
Cold Brew 100% Organic Bolivian coffee. Ready to drink. FREE SHIPPING. NEW PRODUCT!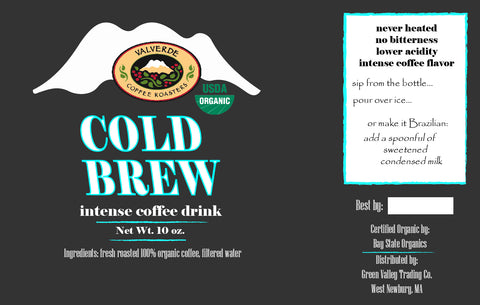 Cold brew is a simple mix of ground coffee with cold water that has steeped overnight. It can be served right away or stored for up to four weeks in the refrigerator, or one week in a cool, dry place.
Cold brew coffee is lower in acidity.  According to a study done by Toddy, a major equipment manufacturer, it is over 67% less acidic than hot brewed coffee. Our Cold Brew is sweeter (natural sweetness, not sugar sweet) and smoother.  Because the coffee grounds are not exposed to high temperatures, cold brew coffee tastes more flavorful and less bitter, and easier on the stomach lining.

Our Cold Brew is made with twice as much ground coffee as regular coffee and it will have twice as much caffeine. You can drink it straight or dilute it -- or do it the Brazilian way, add a teaspoon of sweetened condensed milk. Our product is not pasteurized, so we recommend that you refrigerate it (it tastes much better cold!) after you receive it.
Our cold Brew is made with 100% organic Bolivian coffee beans imported and roasted masterfully by us to extract the best flavor for cold brew.  Try it and let us know.
The standard order is for four 10-oz bottles. You can also order in packages of 25 bottles. You can also order a sample.
---
More from this collection