100% Bolivian Organic: Flagship House Roast. NEW CROP!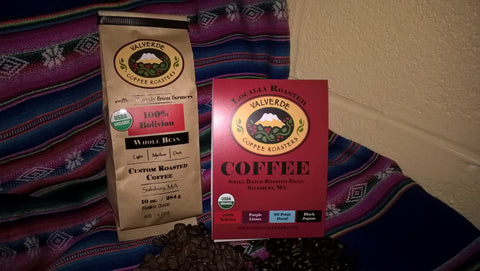 Origin
Bolivia
Region
Caranavi
Farm / Coop
San Ignacio, Calama, Circuata, Montana Verde, Fortin, Taipiplaya, Alto Sajama, Copacabana
Altitude
5,300+ ft.
Varietals
Tipica (40%), Icatu (30%) Caturra (10%), Catuai (20%)
Processing
Fully washed
Certifications
Organic by Bastate Organic Certifiers
Cup Notes

86.5 points. AROMA/FLAVOR: Dark chocolate, molasses, toasted bread, apple pie, fruit cake. ACIDTY:  effervescent citric.  OTHER: Full flavor, complex and well structured, super smooth, velvety finish. A delight.

.
These coffee beans come from several farms in the Caranavi Province of Bolivia. Since 2005, we have been buying cupped-by the bag coffee at guaranteed minimum prices, based on quality and as part of a multi-year contract from several farmers, many times buying all of their production. We are very happy with our long term relationship with them and we have already seen significant improvements in the quality of their coffee and the lives of the farmers. We are proud to be the main source and inspiration for both improvements. We also pay for their organic certification
This coffee is shade-grown in the higher altitudes of the Caranavi Province. It was de-pulped and washed using pure Andes mountain spring water, sun-dried on wooden table tops, and hand sorted by "palliris", Aymara women food graders.
These photos include San Ignacio producers welcoming members of Invalsa's fourth annual Origin Trip, during our visit in October 2015, with flower garlands, a brass band, and enthusiastic dance party! As well as other pictures
Explore the region of Caranavi in Bolivia yourself, here:
View Larger Map
---
More from this collection