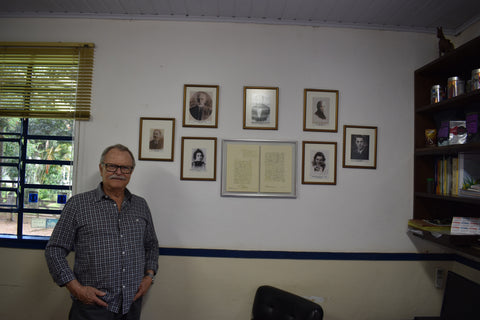 Origin
Brazil
Region

Sul Minas region, Minas Gerais Estate

Farm / Coop
Barreiro
Altitude

3,720 feet

Varietals
Processing

Honey process / Pulped natural

Certifictions

UTZ, BSCA

Cup Notes

86.5 points. 

AROMA/FLAVOR: Mil chocolate, marzapan, herbal. ACIDITY: malic (apple), and citric (tangerine). OTHER: Full flavor, creamy. long aftertaste, multi-faceted and well structured. Great for Special occasions or single origin espresso.
 This coffee was processed using the "pulped natural" or "honey" method --a combination of the 'wet' and 'natural' drying processes. It comes from Fazenda Barreiro in the well-known Sul Minas region of Minas Gerais State in Brazil.  As with all of our coffees, we sourced these coffee beans directly from the farm.
Fazenda Barreiro was started by Joaquim Bernardes da Costa Junqueira, "the Sesmeiro", on December 11, 1820, where he takes possession of an extensive land area that had just received a civil sentence issued by the order of King João VI, King of Portugal, Brazil and Algarves. In Brazil, the Sesmeiro is the person that receives land from a King's grant for the purposes of creating local employment and "efficient" farm production.
A few years later, Dom Joaquin settled definitively with his family on the fertile slopes of the Serra de São Domingos where he founded the "Fazenda do Barreiro". From that moment his descendants, after successive shares, colonized and founded most of the farms located in this fertile region. Coronel Agostinho da Costa Junqueira, son of the Sesmeiro and founder of the city of Poças de Caldas (a beautiful city with gardens, natural springs and thermal baths many times visited -and enjoyed- by Nelson, Eleni and his family). At the end of the 19th century the Junqueira family began the first coffee plantations in the lands of Fazenda do Barreiro, aware of the qualities of soil, climate and altitude favorable to its cultivation. Fazenda Barreiro is still owned by the descendants of Colonel Agostinho. His great-grandson Francisco Otávio Lotufo, has dedicated the farm to the production of specialty coffees, cattle breeding and eucalyptus plantation. Nelson and Eleni visited the farm in March of 2018 and had a grand tour by Don Francisco, Owner-manager.
This is our first purchase form Barreiro Farm. We were introduced to them by our good friends at Bourbon Specialty Coffees in Poças de Caldas. Minas Gerais. We plan on buying -and enjoying- their coffees for the years to come.
---
More from this collection