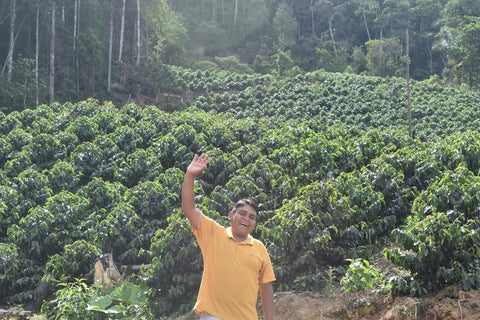 | | |
| --- | --- |
| Origin | Bolivia |
| Region | Caranavi -Kantutani |
| Farm / Coop | Cafe Phaunchinta |
| Altitude | 5,340 - 5,790 ft. |
| Varietals | Red Catuai (50%), Yellow Icatu (40%), Geisha (10%) |
| Processing | Fully washed |
| Certifications | Grown using organic practices, but not certified |
| Cup Notes |   Score: 86.7 points. FLAVOR/AROMA: Intense fragrance. Sweet Potato. Blackberry. Ripe citrus peel aroma. Cinnamon. Caramel. Brown Sugar. ACIDITY: Complex citric (mandarin, meyer lemon, orange). OTHER: Blackberry Aftertaste. Transparent, Multi-faced, Creamy Aftertaste. Round body. Excellent choice for single origin espresso or cold brew. |
Juan Jose (Juanjo) Machicado's and his wife Lidia Luque's farm is called Finca Phaunchita. It is located in Zona Villamontes, Colonia Kantutani, Caranavi Province. Juanjo & Lidia work with their two children (David & Luz Abigail) to process and sell their coffee. They have become one of our partners in our Cafe Kantutani project where together, in a legal partnership, we work managing a 15-hectare coffee farm which started production in 2020.
In 2020, Lidia was the 13th-place winner in Bolivia's Cafe Presidencial Competition, the Bolivian Government version of Cup of Excellence. She submitted a Yellow Icatu lot that was sold at an international online auction for over $7/lb. 

Invalsa has been buying their coffee since 2014. They inherited the art of growing coffee from their parents who have more than 40 years of dedication to coffee growing traditions.  In addition to the cultivation management tasks, the farm focuses on managing coffee processing, which means using raised beds for drying under solar tents. Since the harvests season is between May to September, Juanjo & Lidia and her family work from early morning until late night They carry out selective harvesting, pulping control, managed fermentation sometimes for 14 to 15 hours daily, then they wash the beans properly and dry them on raised beds until they reach 12% of humidity. The coffee in pergamino (parchment) is then delivered to Invalsa's cool and dry warehouse in La Paz.

We are very proud of our ongoing relationship with Juanjo & Lidia and hope to nourish our partnership for the years to come. This is the first time we are offering their coffee directly.  In previous years we sold it all to roasters in California and Arizona.

Explore the region of Caranavi in Bolivia yourself, here:
View Larger Map
---
More from this collection