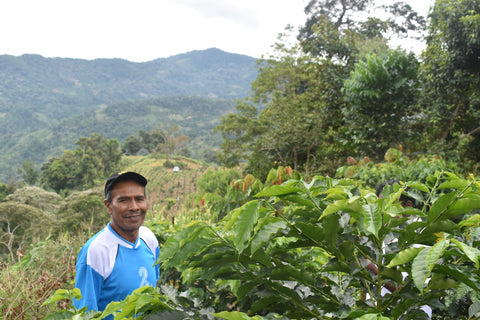 | | |
| --- | --- |
| Origin | Bolivia |
| Region | Caranavi |
| Farm / Coop | Colonia San Ignacio |
| Altitude | 5,330 feet above sea level |
| Varietals | Red Catuai (50%), Yellow Icatu (40%), Geisha (10%) |
| Processing | Fully washed |
| Certifications | Grown using organic practices, but not certified |
| Cup Notes | SCORE: 86.5 points. AROMA/FLAVOR: Caramel fragrance. Mango, stone fruit, milk chocolate, marzapan, tropical florals. Juicy peaches,  ACIDITY:  citric, with hints of malic (apples). OTHER: Exotic. flavorful. Chocolaty aftertaste. Improves as it cools. Great for special occasions and to wow coffee aficionados. Superb cup. |
Porfirio is a long standing member of the San Ignacio Community. 
We have been been buying Porfirio's coffee since 2008, as part of multi-year contracts based on coffee quality, as measured by a cupping score. The higher the quality the higher the price we pay him and his family.
Porfirio and his family have been working very hard during the past two years, after the devastating Coffee Rust (La Roya) attacks, to renovate their "cafetal" (coffee farm). Although the work is hard and the hours are long, they are very happy to be living and working in San Ignacio. The high quality coffee that results from the altitude and the climate here enables them to send their children to school and put food on the table. Porfirio hopes that his children will study agronomy when they get older, so that they will be able to use their knowledge to improve their family's sustainable production.

In 2018/2019 began renovating his farm. 2020 was he first year of production of his renovated farm. The results are outstanding. Well done Porfirio! Explore the region of Caranavi in Bolivia yourself, here:

---
More from this collection