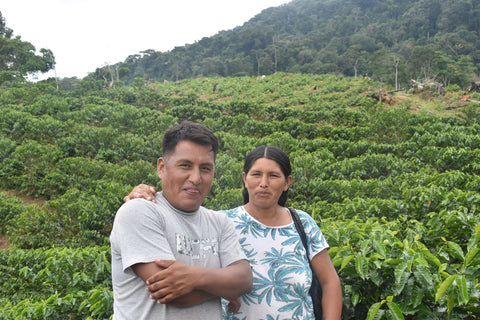 | | |
| --- | --- |
| Origin | Bolivia |
| Region | Caranavi |
| Farm / Coop | Colonia San Ignacio |
| Altitude | 5,280 feet above sea level |
| Varietals | Castillo (rust-resistant, developed in Colombia) &  Red Catimore |
| Processing | Fully washed |
| Certifications | Grown using organic practices, but not certified |
| Cup Notes | SCORE: 86.5 points. AROMA/FLAVOR: Dark Chocolate. Brown sugar. Hints of citrus peel aroma. Herbal finish. Fruity. Tropical florals. Fruit cake.  ACIDITY:  citric, with hints of phosphoric. OTHER: Full Flavor. Chocolaty aftertaste. Improves as it cools. Good structure and sound complexity. Makes nice espresso and dark roasts. |
Humberto (full name: Humberto Mamani Chamby) and his wife, Amalia Huchani are long standing members of the San Ignacio Community.  They have been growing coffee since 2005 and own their current farm since 2007. They learned how to grow and process coffee from both of their parents. After learning the process they decided to become independent, bought their own farm and the rest is history, as the story goes...

We have been been buying Humberto's coffee since 2018, as part of multi-year contracts based on coffee quality, as measured by a cupping score. The higher the quality the higher the price we pay him and his family. Humberto & Amalia are most proud of the quality of their Specialty coffee: "We get a higher price because of the quality", as they beam their answer.
Asked about their coffee traditions, they quicky reply "la danza del cafe" (the coffee dance), which they perform at a community event right after the harvest. Asked about their coffee consumption tradition, they reply: "tostamos el café en olla de barro, luego molemos en batan y consumimos diariamente". We roast the coffee in the clay pot, grind it with two stones (batan), and drink it daily.
Asked about coffee improvements in the past few years, they reply. " We used to dry the coffee on the ground on top of canvas or concrete floors. Now we use elevated, ventilated tables and take advantage of the full sun. However, they are quick to add: "the most important part is still to pick only ripe red cherries daily and process it the same day, even when we are dead tired."

We are very happy of our ongoing relationship with Humberto and Amalia and hope to nourish our partnership for the years to come. This is the first time we are offering their coffee directly under their own name.  In previous years we we blended it into our Invalsa AAA.
Explore the region of Caranavi in Bolivia yourself, here:
---
More from this collection