86+ Find: Ruben Caceres -San Ignacio (Bolivia) Microlot. NEW FARMER!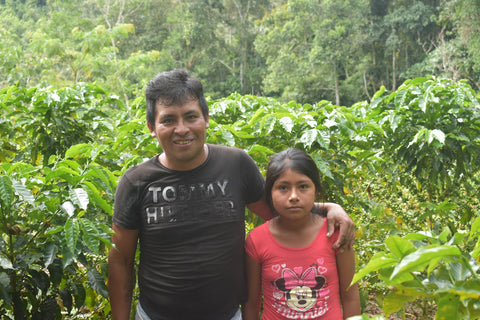 | | |
| --- | --- |
| Origin | Bolivia |
| Region | Caranavi |
| Farm / Coop | Colonia San Ignacio |
| Altitude | 5,330 feet above sea level |
| Varietals | Tipica (35%), Caturra (10%) Catuai (30%) Icatu (25%) |
| Processing | Fully washed |
| Certifications | Grown using organic practices, but not certified |
| Cup Notes | SCORE: 86.5 points. AROMA/FLAVOR: Hint of red berries. Herbal, mangoes, cantaloupe, Vanilla fragrance, milk chocolate. toasted bread. ACIDITY: Mild citric (orange, Meyer lemon). OTHER: Lingering aftertaste, clean and sweet. Very pleasant finish. Drink it hot! |
Ruben is one of the young coffee farmers at San Ignacio community. He was born in the highlands of La Paz (the Altiplano), and migrated to the village of San Ignacio in the province of Caranavi in 1987, at the age of 16. 
We got to know Ruben through our special relationship with the San Ignacio cooperative and community. We are committed to purchasing the best coffees from the Community, and pay a premium based on quality. The higher the cupping score, the higher our premium. We have multi-year contracts with their producers.
Ruben is making steady progress towards improving his "parcela" (coffee farm). He is attentive at workshops, takes good notes, and is always the one asking the questions. Good for him!
Explore the region of Caranavi in Bolivia yourself, here:
---
More from this collection