House Roast: Santa Barbara Estate AA+ Excelso (Colombia)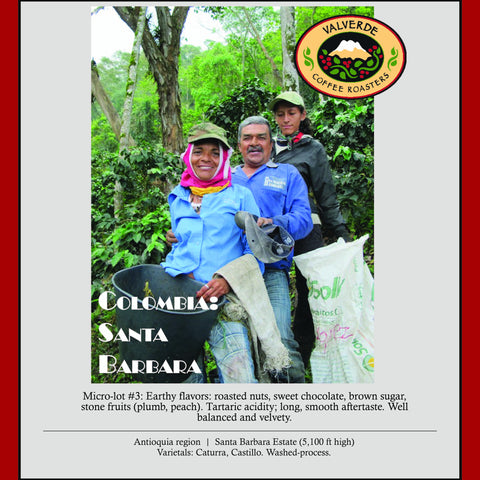 | | |
| --- | --- |
| Origin | Colombia |
| Region | Antioquia |
| Farm / Coop | Santa Barbara |
| Altitude | 5,100 ft. |
| Varietals | Caturra, Castillo |
| Processing | Wet washed |
| Certifications | n/a |
| Cup Notes | Score: 84.5 AROMA/FLAVOR: Spicy, peppery, herbal, almonds. ACIDITY: vibrant citric with hints of tartaric (grapes). OTHER: Light, pleasant, mild Colombian profile. Fruity. Great for breakfast blend or lighter roasts. |
This lot was part of our second purchase from the Santa Barbara coffee estate, located in the well-known Antioquia region of southwestern Colombia, near the beautiful city of Medellin. We bought this coffee directly from Pedro Miguel Echavarria, whose family has been in the coffee business for over four generations.
The family's beginnings in the coffee business date from the early 20th century when Pedro Miguel's second great grandfather, Don Alejandro Angel, became the first major exporter of Colombian coffee. Pedro Echavarria, husband to one of Don Alejandro's great grandsons, ventured into growing coffee (not just exporting it) three decades ago. He built a coffee estate from the bottom up. After much deliberation he ended up deciding for Santa Barbara, a small county encroached into the Andean mountains in the state of Antioquia. Other than its picturesque charm, Santa Barbara offered a land with distinctive and crucial qualities, such as micro-climates (due to the combination of altitude with warm air from the Cauca river valley), singular volcanic soils, perfect altitude, and a tradition of excellence in the production of coffee. The Santa Barbara Estate has 350 hectares in coffee fields, a size which has proven to be perfect to afford a state of the art beneficio (wet mill) without being too large to sacrifice quality. Mr. Echavarra manages the company with the help of his three sons, Nicolas, Camilo and Pedro Miguel. The Estate employs over 1,000 committed workers.
Nelson and Eleni regularly visit the farm. The last time was Nelson being hosted by Pedro Miguel in March 2017.
  Explore the Antioquia region around the Santa Barbara Estate yourself, here:
View Larger Map
---
More from this collection